EXECUTIVE COMMITTEE Nominations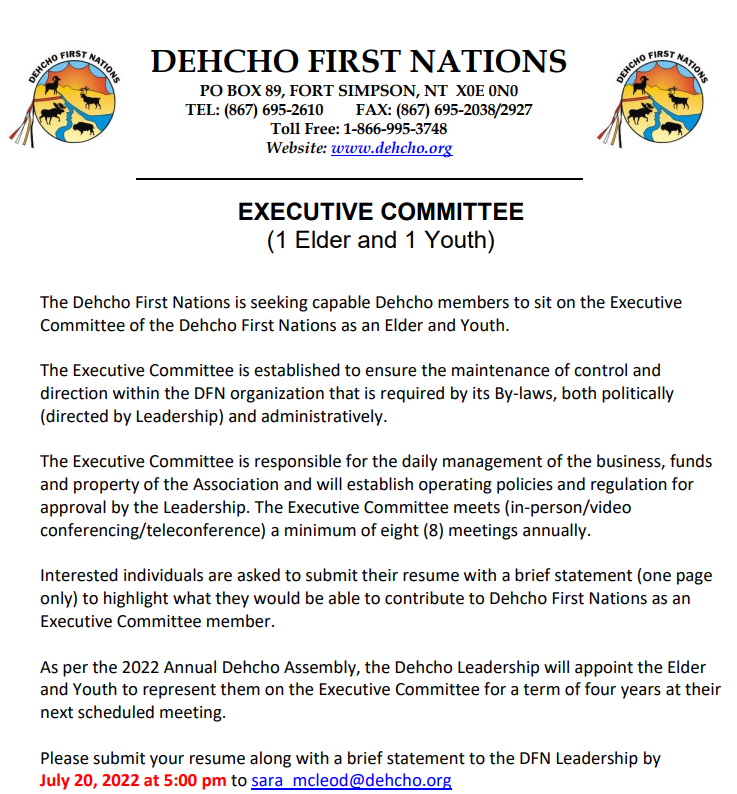 The Dehcho First Nations is seeking capable Dehcho members to sit on the Executive Committee of the Dehcho First Nations as an Elder and Youth.
The Executive Committee is established to ensure the maintenance of control and direction within the DFN organization that is required by its By-laws, both politically (directed by Leadership) and administratively.
The Executive Committee is responsible for the daily management of the business, funds and property of the Association and will establish operating policies and regulation for approval by the Leadership. The Executive Committee meets (in-person/video conferencing/teleconference) a minimum of eight (8) meetings annually.
Interested individuals are asked to submit their resume with a brief statement (one page only) to highlight what they would be able to contribute to Dehcho First Nations as an Executive Committee member.
As per the 2022 Annual Dehcho Assembly, the Dehcho Leadership will appoint the Elder and Youth to represent them on the Executive Committee for a term of four years at their next scheduled meeting.
Please submit your resume along with a brief statement to the DFN Leadership by
July 20, 2022 at 5:00 pm to sara_mcleod@dehcho.org