West Point First Nation
West Point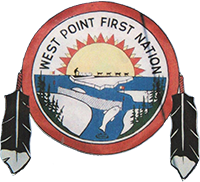 History
The Ts'ueh Nda community (West Channel) exists of the Metis and Dene people who have moved their families to take advantage of the Great Slave Lake and the fishing industry.
1977- The members worked along side the Metis Local to access housing and social programs. Ts'ueh Nda members were members from Snowdrift, Fort providence, Inuvik, Fort Simpson, Kakisa Lake and Tathlina Lake.
1988- The local people got together and agreed that they could run their own programs; at this gathering there was census that they could form a Society. This society was free roaming on the account that there was no official office, so when there was a call for a meeting each home hosted the meeting.
1993- The Ts'ueh Nda got recognition for Band status. The membership asked for a transfer to create the Band with support from all affected First Nations. There were 39 members on the list. This is when the membership renamed the "West Point First Nation"
2004- At the present time the membership consists of 71 members, 25 of those reside in Hay River. There are 19 elders and the rest are under the age of 55 years. The community of west Point First Nation is within the municipal boundaries of Hay River. There are 17 residential Homes in West Point First Nation, including the Band Office.
"Be gentle to the Children and Elders for they walk closer with the Creator. One has just come from the spirit world and the other is soon to return to the spirit world"
Author: Unknown
Location
Community Gallery