COVID-19 Support
Notice: Application forms may vary by community office, please contact your community office before submitting a funding application to ensure you have the correct form.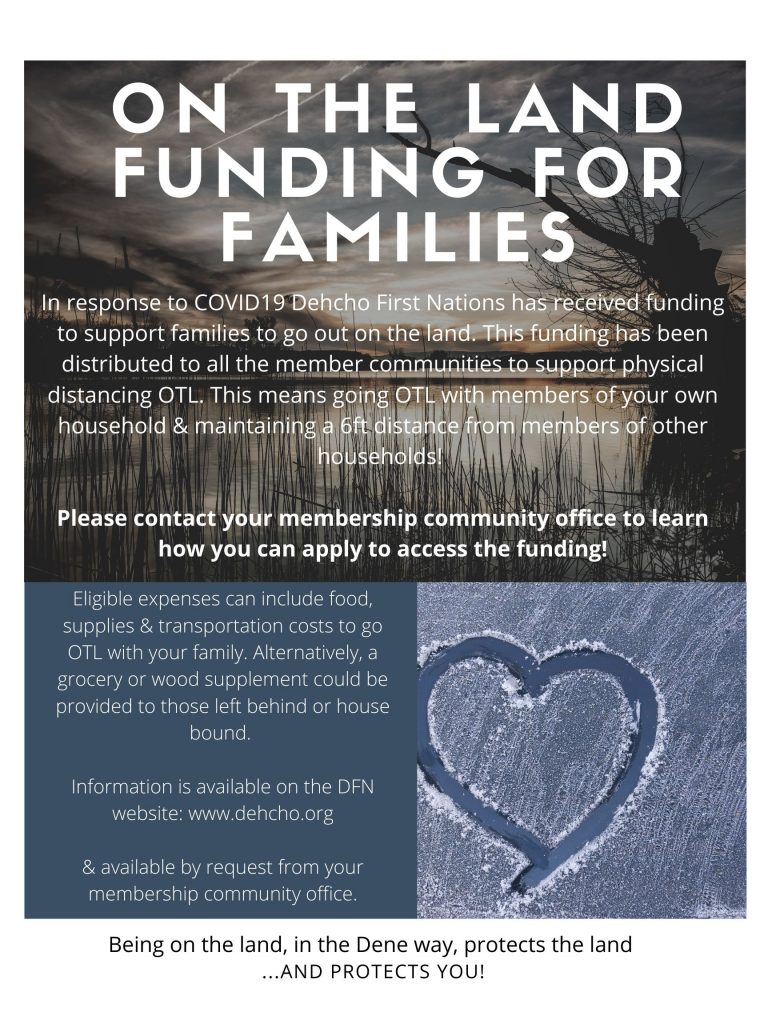 Overview
Dehcho First Nations has received funds from the Government of the Northwest Territories (GNWT) and Indigenous Services Canada (ISC) to distribute to Dehcho Member Organizations. These funds have been provided directly to each DFN Organization.
Dehcho First Nations members can apply for funds to go on the land, OR if they are unable to go on the land, funds for groceries, supplies, etc. that are needed, directly from their First Nations or Metis Organizations.
Applications can be received from each person's First Nations or Metis Organization.
Because of the need for physical distancing and now that many offices are working from home, all applications must be distributed via email and submitted via email or by other means, but not in person. If you do not have internet or a computer etc., we ask people to reach out to those that do, through a phone call and ask for their help with the application process. We can use technology (phones and computers) to still get things done.
Community Contacts
Liidlii Kue First Nation
Fort Simpson Metis
Jean Marie River First Nation
Ka'a'gee Tu First Nation
Deh Gah Gotie First Nation
Fort Providence Metis Nation
Sambaa K'e First Nation
Pehdzeh Ki First Nation
West Point First Nation
Nahanni Butte Dene Band